Dili, Timor-Leste—Timor–Leste has just reached new milestones towards the United Nations (UN) Sendai Framework and Sustainable Development Goals (SDGs), completing the final phases of an early warning capacity enhancement project in partnership with the Pacific Disaster Center (PDC Global). The project is aimed at saving lives and reducing losses by filling gaps in early warning technology and critical data needed for effective decision-making. The undertaking between the two is important to Timor-Leste given the nation's sharp increase in floods, tropical cyclone impacts, and other weather-related hazards associated with climate change.
The final workshop for the project, organized by PDC, took place in Dili from April 24-27, 2023, with the participation of Timor-Leste's Civil Protection Authority (CPA) and the International Organization for Migration (IOM). The workshop was also attended by the National Directorate of Meteorology and Geophysics (DNMG), UN Development Program (UNDP), and Mercy Corps. The workshop followed training for PDC's DisasterAWARE platform—a decision support tool that provides early warnings for multiple hazards, data sharing tools, and anticipated hazard impact information derived from PDC's advanced models and AI for Humanity technology.
"PDC is proud to have been part of this important project which enhances Timor-Leste's early warning capacities," said PDC Deputy Executive Director Chris Chiesa during the final workshop.
Timor-Leste's CPA President, Inspector Ismael da Costa Babo addresses participants at the final Early Warning Capacity Development workshop.
"Resilient societies require evidence-based decision making, by whole-of-government and whole-of-stakeholder communities to save lives. DisasterAWARE has real-time information from authoritative sources and is one of the world's best early warning system platforms."

Ihma Shareef, Chief of Mission at IOM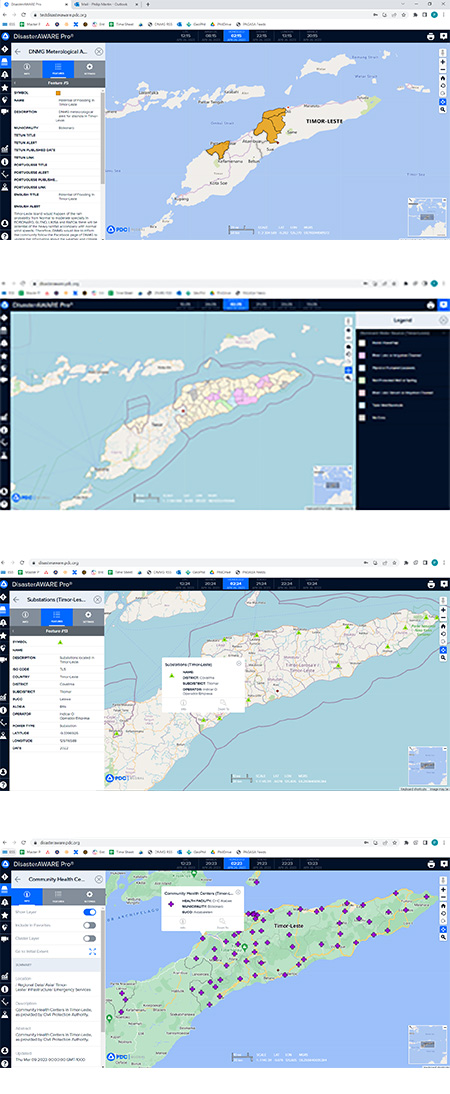 Above: Snapshot of numerous critical datasets integrated into DisasterAWARE to aid effective disaster management decision making and planning in Timor-Leste.
Ms. Shareef also stated that multi-hazard early warning systems are the cornerstone of disaster risk reduction and essential for protecting the citizens of Timor-Leste.
Funded by USAID's Bureau of Humanitarian Assistance (BHA) and IOM, country stakeholders worked together to enhance the information available in DisasterAWARE through the integration of national data provided by CPA and other national data providers. As part of the project, user training included operational use of the system to support hazard monitoring and response within CPA and DNMG.
During the final workshop, CPA President, Inspector Ismael da Costa Babo said,
"The DisasterAWARE platform is important for our Emergency Operations Center (EOC) capacity development goals as it makes it easy for us to understand risk, inform responders, eliminate loss of life and damage to property, and coordinate with the AHA Centre. Preventing impacts like those seen in the last cyclone relies on early warning systems and data. Without these, we cannot plan for future hazards."
Mr. Babo continued by highlighting Timor-Leste's commitment to EOC development goals, stating, "We agree to adopt the PDC DisasterAWARE platform for our new Emergency Operations Center." He went on to request technical assistance from PDC, via IOM/USAID, for further training and exercises among the nation's municipal EOCs.
Mr. Babo's enthusiasm was echoed by CPA and DNMG workshop participants who were enthusiastic about the new capabilities provided during the final workshop and all project partners are already discussing collaboration on a second phase of the project to further enhance DisasterAWARE and its institutionalization throughout the small island nation.
Workshop and Training Photo Gallery