An innovative partnership between Pacific Disaster Center (PDC), Yayasan Peta Bencana, the Philippines Office of Civil Defense (OCD-NDRRMC), and USAID's Bureau for Humanitarian Affairs (BHA) was just launched as another key milestone in the Philippines's new hazard monitoring, early warning, and decision support system, PhilAWARE. The launch, announced during a virtual webinar titled Between Pandemics and Disasters: Social Media for Humanitarian Response, emphasized the importance of community engagement in disaster response.
"We are excited to have been brought on board by PDC and USAID to launch this platform for the PhilAWARE project. This platform leverages our successful work in Indonesia to increase disaster resilience, minimize loss, and facilitate greater cooperation before, during, and after emergencies," said Nashin Mahtani, director of Yayasan Peta Bencana.
The PhilAWARE system, powered by PDC's DisasterAWARE, was released mid-February 2020 for operational use in beta to help the Philippines mitigate, prepare for, and recover from disasters. As part of the PhilAWARE project, Yayasan Peta Bencana adapted its social media reporting platform and officially launched the new MapaKalamidad.ph site for the Philippines on September 10, 2020.  Hazard reports contributed to MapaKalamidad.ph by the public will be incorporated in PhilAWARE for use by OCD to support their monitoring and response operations.
"PDC seeks to leverage innovative technologies for operational use by our disaster management partners, including OCD here in the Philippines. Today, we are happy to highlight our successful partnership with Yayasan Peta Bencana and build upon our work in Indonesia to help advance national disaster resilience in another high-risk, disaster-prone nation in the region—the Philippines," said PDC's Deputy Executive Director Chris Chiesa. "Through this partnership, PhilAWARE users will have access to both authoritative information from NDRRMC member agencies and up-to-the-minute crowd-sourced information from citizen of the Philippines.
Yayasan Peta Bencana's customized platform for the Philippines allows residents of Pampanga and Quezon City to visualize disaster impacts in real time, using both crowd-sourced reporting and government agency validations. The platform enables citizens to share what they are experiencing to help the community make decisions about safety and navigation, and to help disaster management professionals more effectively prioritize response activities during disasters.
"The Mapakalamidad.ph, which draws verified and reliable information through crowd-sourcing and social media is a very welcome development. The success of disaster risk reduction depends on public buy-in, and ownership in concepts of safety, preparedness, and resilience," said Civil Defense Deputy Administrator for Operations, ASEC Casiano C. Monilla.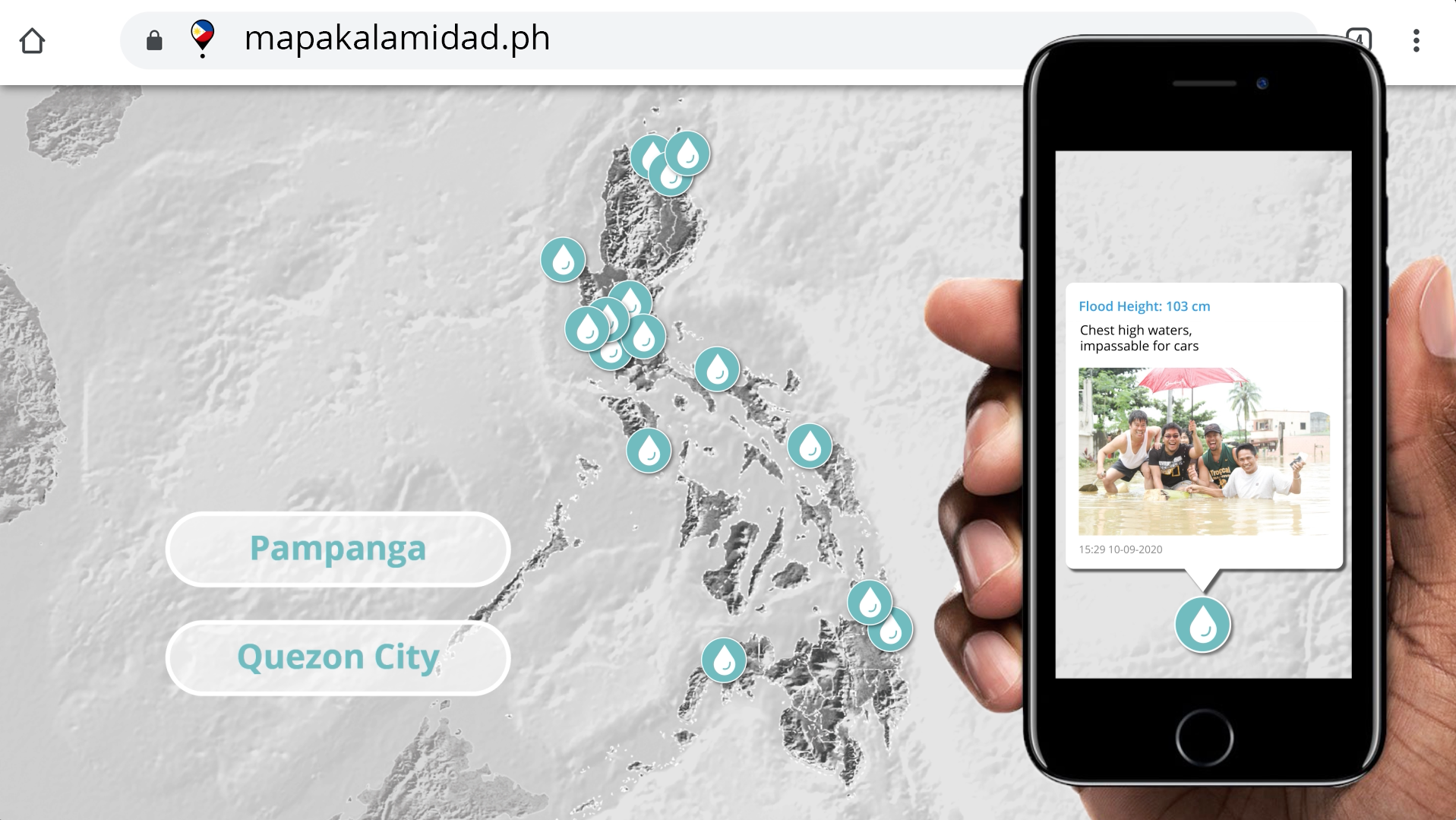 Using social media channels including Facebook, Twitter, and Telegram, the public can report hazard events and impacts from floods, earthquakes, forest fires, haze, high wind, and volcanic events with an easy reporting interface. This information is then aggregated and validated by local government agencies before being automatically integrated into PhilAWARE to support OCD operations. Additionally, the individual hazard reports are available for the public to view  via the Mapakalamidad.ph site. The PhilAWARE project is funded by USAID's Bureau for Humanitarian Affairs (BHA), and represents a multi-partner collaboration between the Philippines OCD, the Philippines National Disaster Risk Reduction and Management Council (NDRRMC), Pacific Disaster Center (PDC), Yayasan Peta Bencana, and Humanitarian OpenStreetMap Team (HOT).
For more information about Yayasan Peta Bencana Philippines or the MapaKalamidad.ph project, please visit info.petabencana.id or read more on the links below: