Pacific Disaster Center (PDC) joined the United Nations Office of the Coordination of Humanitarian Affairs (OCHA) and World Food Programme (WFP) to showcase the innovative products of their partnership at the fifth Humanitarian Networks and Partnerships Week (HNPW) on February 4-8, 2019. More than 2,200 experts gathered at the International Conference Centre (CICG) in Geneva, Switzerland to exchange ideas and collaborate on solutions to common humanitarian challenges afflicting nations worldwide.
"We need broad collaboration among a wider group of stakeholders to create a better future for the millions of people around the world affected by humanitarian crises," said Secretary-General for Humanitarian Affairs and Deputy Emergency Relief Coordinator, Ursula Mueller. She described unprecedented challenges being faced by the humanitarian assistance community and the need to work together to adopt collaborative and holistic approaches that, in a globalized society, are often interconnected.
During the five-day event, participants were able to learn about the tangible ways in which PDC, OCHA, and WFP were leading by example to support the cause for collaboration. "We are proud of the work we have done to fill gaps in each of our organizations' capabilities. As global leaders with a common mission to reduce disaster losses and save lives, we have unique expertise and each of us hold an important piece of the puzzle," said PDC Disaster Management Specialist, Todd Bosse. He said the new analytical products jointly created by the three international leaders support more efficient and accurate estimation of disaster impacts and humanitarian needs during preparedness and response operations.
By merging information exclusively held by each organization and leveraging PDC's unique exposure modeling capabilities—providing accurate assessment of exposure to any type of hazard in any part of the world—it has opened a world of new possibilities to enhance response and preparedness, according to Mr. John Marinos, Regional Information Management Officer at OCHA's Regional Office for Asia and the Pacific (ROAP). "The combined data and scientific modeling capabilities have already been used to support active response operations for major events like the 2018 earthquake and tsunami that struck Sulawesi, Indonesia and left hundreds of thousands in need of assistance." He said the technological capabilities provide new insights for advanced planning and exercises in data-poor geographic locations like the Democratic People's Republic of Korea where almost no information is available.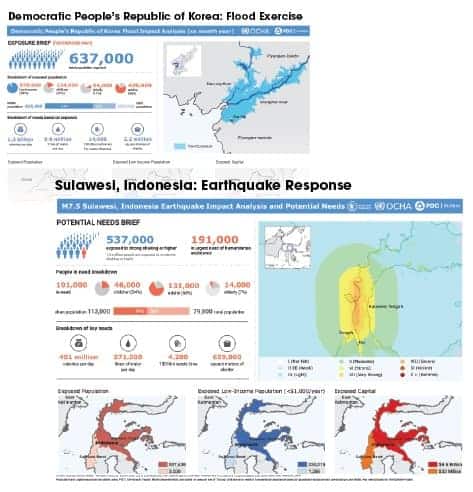 OCHA, WFP, and PDC are already is discussion about expansion of the partnership to include OCHA's Regional Office for Latin America and the Caribbean (ROLAC) and other areas around the world. "This is really only the beginning. As we continue to fill gaps in information through WFP programs and PDC's National Disaster Preparedness Baseline Assessment (NDPBA) program, we will be able to improve life-saving activities and preparedness planning on a global scale," said PDC's Director of Global Operations and disaster response expert, Dr. Erin Hughey.
During the conference, PDC also held many side meetings to explore new opportunities for collaboration with organizations like INFORM, the International Displacement Monitoring Centre (IDMC), MapAction, WFP's Global Logistics Cluster, the Humanitarian Data Exchange (HDX), the Association of Southeast Asian Nations Humanitarian Assistance (AHA) Centre, and the National Disaster Risk Reduction and Management Council (NDRRMC) of the Philippines.