As international pressure intensifies for countries around the world to provide complete multi-hazard early warning coverage for all populations—particularly the vulnerable—several countries in Southeast Europe have heeded the call.
Coming together in Tirana, Albania on February 23, 2023 for the Balkans Regional Early Warning System (EWS) Partner Exchange, stakeholders from across sectors including national, regional, and international organizations, convened to discuss early warning capacity development within the region. The exchange was hosted by the United Nations Development Program (UNDP) as part of a broader U.S. Forest Service Disaster Risk Reduction program with Albania and co-chaired by Pacific Disaster Center (PDC)'s Deputy Executive Director Chris Chiesa and Albania National Civil Protection Agency (NCPA) Director General Haki Çako. Additional program support was provided by U.S. EUCOM and USAID's Bureau of Humanitarian Assistance.
During the event, diverse organizations presented plans and ongoing efforts to strengthen capacity, identifying opportunities for collaboration on improved early warning regionally.
"EWS is complex and involves different components requiring relevant expertise and the involvement of numerous actors. To successfully establish these systems, the work and efforts of all involved actors must be integrated and harmonized," said NCPA DG Çako.
"The sharing of knowledge, practices, ideas, and coordination of activities that result from this meeting will enable the creation of synergy among the attendees—contributing to the efficiency of engagement and performance in disaster risk reduction and management."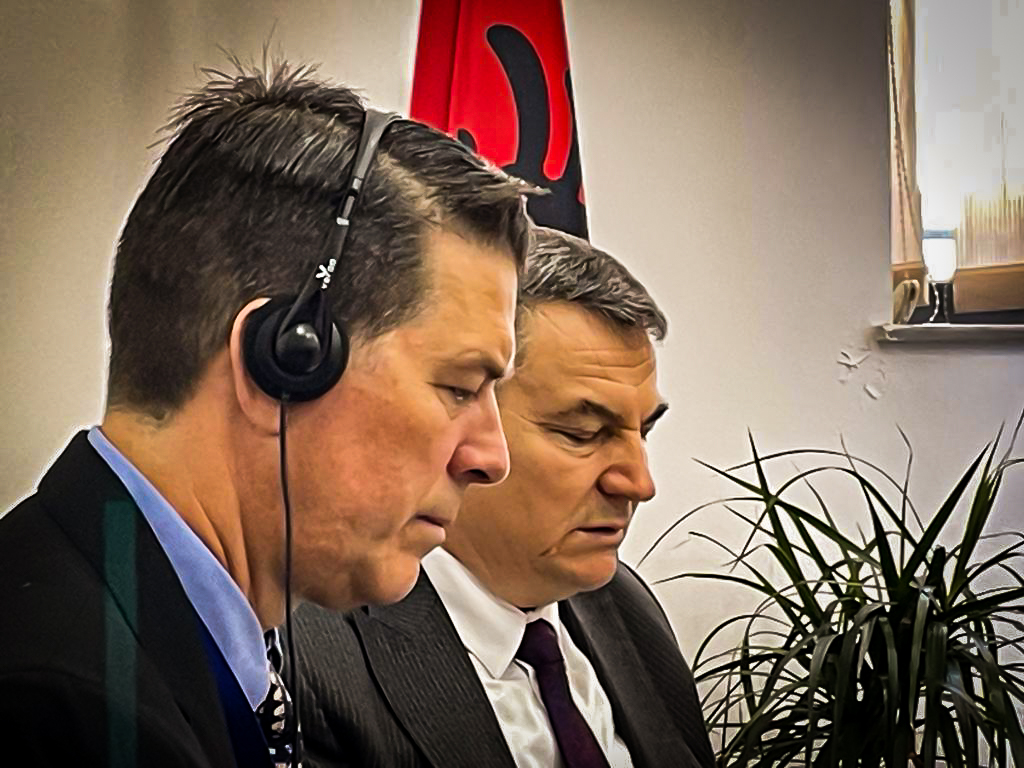 PDC Deputy Executive Director Chris Chiesa NCPA Director General Haki Çako participate in EWS Exchange in Albania in February 2023.
"Early warning systems are widely recognized as vital for saving lives and reducing losses. They are also proven to be effective in building climate resilience and supporting adaptation. Our DisasterAWARE platform supports the U.N. World Meteorological Organization's 'Early Warnings for All' initiative by providing global, multi-hazard early warning coverage for 19 natural hazards including the only global source of flood and landslide early warning currently available," said PDC's Deputy Executive Director Chris Chiesa.
Chiesa elaborated on the new Balkans EWS capabilities provided through its DisasterAWARE platform, including free access to one of the world's largest extended libraries of disaster management decision-making data.
"DisasterAWARE provides access to critical information needed for effective disaster management from a single location. This includes access to PDC's enhanced reports and specialized products powered by our all-hazards impact model, as well as national data integrated into the system. We also provide free supplemental data from our research, such as our Global Climate Change Impact Analysis and other population, infrastructure, geographical, and hazard information."
Presenters during the EWS Exchange included the Disaster Preparedness and Prevention Initiative (DPPI) for South Eastern Europe, the Italian National Institute of Geophysics and Volcanology (INGV), the U.N. Development Program (UNDP), the University of Hawaii's Pacific Disaster Center, and its long-time partner, Kontur. Other invitees and participants included the Swedish International Development Cooperation Agency (SIDA), Japan International Cooperation Agency (JICA), German Agency for International Cooperation (GIZ), Italian Agency for Development Cooperation, U.N. Food and Agriculture Organization (FAO), the European Union (EU), and Albanian partner organizations including the State Authority for Geospatial Information (ASIG), Institute of GeoScience, Red Cross, and the Agricultural University of Tirana.
Prior to the larger stakeholder exchange, PDC conducted user training on its DisasterAWARE Pro system—an early warning, hazard monitoring, and risk intelligence platform. The training was attended by numerous representatives from the national disaster management organizations (NDMOs) of Albania, North Macedonia, Montenegro, and Kosovo.
The training took place at Albania's Emergency Operations Center (EOC) in Tirana, Albania between February 21-22, 2023, and was attended by NDMO representatives both in person and remotely. The session provided foundational knowledge and skills development in DisasterAWARE and a strategic overview of PDC's Balkans Regional EWS Capacity Development program. Data developed as part of this program was demonstrated to training participants to show how national data is integrated for operational use into DisasterAWARE to support disaster risk reduction planning and response.
DisasterAWARE training at Albania's Emergency Operations Center (EOC) in Tirana, Albania on February 21-22, 2023
PDC, its partner Kontur, and USFS later traveled to Podgorica, Montenegro, Skopje, North Macedonia, and Pristina, Kosovo, from February 24-March 2 to meet individually with NDMO leadership and key DRR stakeholders from each country. Discussions included the NDMO structure, defining legislation and decrees as well as the current state of EWS/Emergency Operations Center (OEC) Operations, Information Communication Technology, data systems, and training. Other stakeholders who provide NDMO early warning decision information also participated in discussions. These included hydrological/meteorological, seismology, geological/geophysical, geographic information services, and statistics agencies as well as university partners.
"This is a great opportunity to combine our experiences with yours," said North Macedonia PRD DG Mr. Bekim Maksuti, "and give our good relationship with Albania, a regional system is a great idea. We already have many of the needed pieces in place."

DisasterAWARE Early Warning System Exchange in North Macedonia on February 27-28, 2023).
PDC will document plans and gaps and continue to coordinate with international NDMO leadership, USFS, and other regional and international partners to advance EWS capacity within each country over the coming months.