Post-Tropical Cyclone 16L (Ophelia) / Tropical Cyclone 17L (Philippe) / Invest 91L
Sunday, September 24, 2023
By PDC's Senior Weather
Specialist Glenn James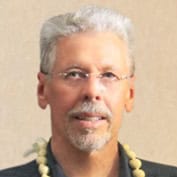 The Pacific Disaster Center's (PDC Global) Sunday, September 24, 2023, Tropical Cyclone Activity Report…for the Atlantic Ocean, the Caribbean Sea, and the Gulf of Mexico
CURRENT TROPICAL CYCLONES:
Tropical Cyclone 17L (Philippe)…is located about 1175 miles west of Cabo Verde Islands
Atlantic Ocean

Tropical Cyclone 17L (Philippe)
PHILIPPE MOVING WEST-NORTHWESTWARD ACROSS THE CENTRAL TROPICAL ATLANTIC
According to the NHC advisory number 6…
Philippe is moving toward the west-northwest near 12 mph (19 km/h). This general motion is expected for the next couple of days, with a turn to the northwest anticipated by Wednesday.
Maximum sustained winds remain near 50 mph (85 km/h) with higher gusts. Little overall change in strength is forecast during the next 72 hours.
Tropical-storm-force winds extend outward up to 115 miles (185 km) from the center.
>>> Eastern Tropical Atlantic…
Invest 91L
A small area of low pressure located several hundred miles south-southwest of the Cabo Verde Islands continues to produce disorganized shower activity.
Environmental conditions are forecast to be conducive for gradual development, and a tropical depression could form around mid-week while the system moves west-northwestward across the central tropical Atlantic.
* Formation chance through 48 hours…low…20 percent
* Formation chance through 7 days…medium…60 percent
>>>Southeastern Gulf of Mexico…
Disorganized showers and thunderstorms over the southeastern Gulf of Mexico are associated with a surface trough of low pressure and an upper-level trough.
Further development, if any, is expected to be slow to occur over the next few days while the system moves slowly westward.
By the middle of the week, upper-level winds are forecast to become too strong for additional development.
* Formation chance through 48 hours…low…10 percent
* Formation chance through 7 days…low…10 percent