CURRENT TROPICAL CYCLONES
Tropical Cyclone 25W (Vamco)

…is located approximately 89 NM west-northwest of Manila, Philippines
Northeast Pacific
A broad area of low pressure is expected to form several hundred miles southwest of the coast of Mexico late this week. Environmental conditions are forecast to be generally favorable for slow development through the weekend and early next week as the system drifts slowly west-northwestward over the eastern Pacific. * Formation chance through 48 hours…low…0 percent * Formation chance through 5 days…
low…30 percent
Here's a link to the
National Hurricane Center
(NHC)
Central Pacific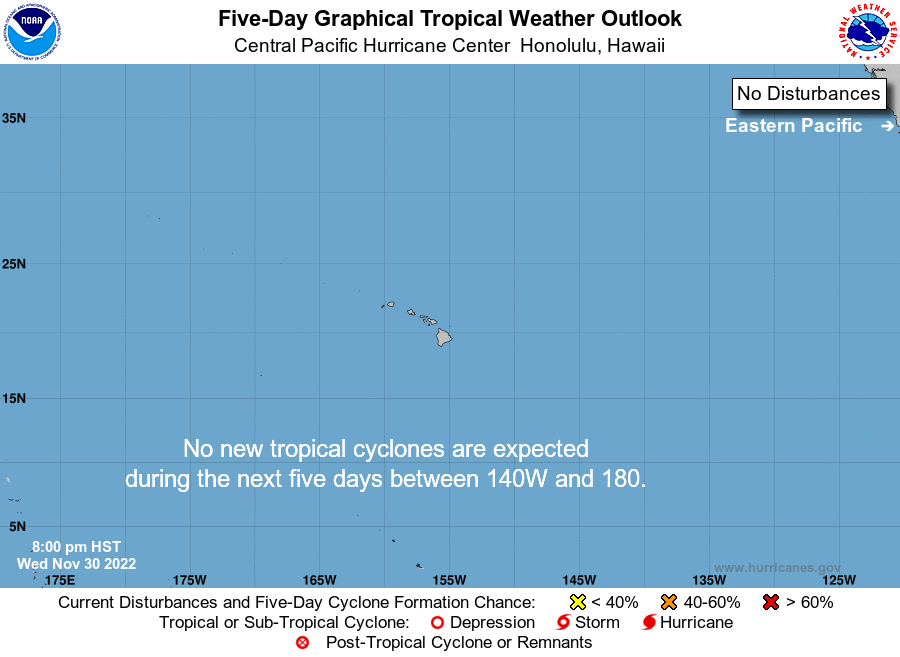 Western North Pacific
Tropical Cyclone 25W (Vamco)
Here's what the
computer models
show According to the JTWC, upper level analysis indicates the system remains in  favorable area, with low 5-10 knot wind shear, and strong radial outflow. Additionally, sea surface temperatures in the Philippine Sea remain warm and favorable. However, the system is now poised to make landfall into the rugged terrain of Luzon. TY Vamco will track toward central Luzon, making landfall  over the Province of Bulacan in around 6 hours. then drag across Pampanga and Zambales, before exiting into the South China Sea shortly after 12 hours. Afterward, it will track westward. Land interaction will mainly weaken it to 65 knots by 24 hours after it exits into the South China Sea. The warm waters and favorable wind shear will fuel a gradual intensification to a secondary peak of 70 knots at 36-48 hours. Afterward, TY 25W will track more west-northwestward over cooling waters in the western South China Sea that will weaken it to 45 knots by 72 hours…as it approaches Vietnam. After 72 hours, TY Vamco will track west-northwestward, making landfall over central Vietnam, just north of Hue around 90 hours. Sea surface temperatures drop near Vietnam. These, plus the rugged terrain will rapidly erode the system to 25 knots by 96 hours after landfall, then to eventual dissipation by 120 hours after it crosses into central Laos.
South Indian Ocean
There's a tropical disturbance being referred to as
Invest 92S
, which is located approximately 968 NM east of Diego Garcia Here's what the
computer models
are showing According to the JTWC, the environment is favorable for further development, with low <15 knot wind shear, warm sea surface temperatures…and moderate outflow aloft. The models are in general agreement that Invest 92S will continue to consolidate as it tracks southwestward over the next 24 hours. Maximum sustained surface winds are estimated at 20-25 knots. The potential for the development of a significant tropical cyclone within the next 24 hours is
medium
. Here's a link to the
Joint Typhoon Warning Center
(JTWC) For real-time information on current disasters download PDC's free
Disaster Alert
mobile app available for your
iOS
or
Android
wwwices today! Also be sure to monitor PDC on
Twitter
,
Facebook
, and by accessing the web-accessible
Disaster Alert
from your computer, phone, or tablet.