CURRENT TROPICAL CYCLONES: 
Tropical Cyclone 29L (Eta)

…is located 90 miles north-northwest of the western tip of Cuba

Sub-Tropical Cyclone 30L (Theta)

…is located 995 miles southwest of the Azores
Atlantic Ocean: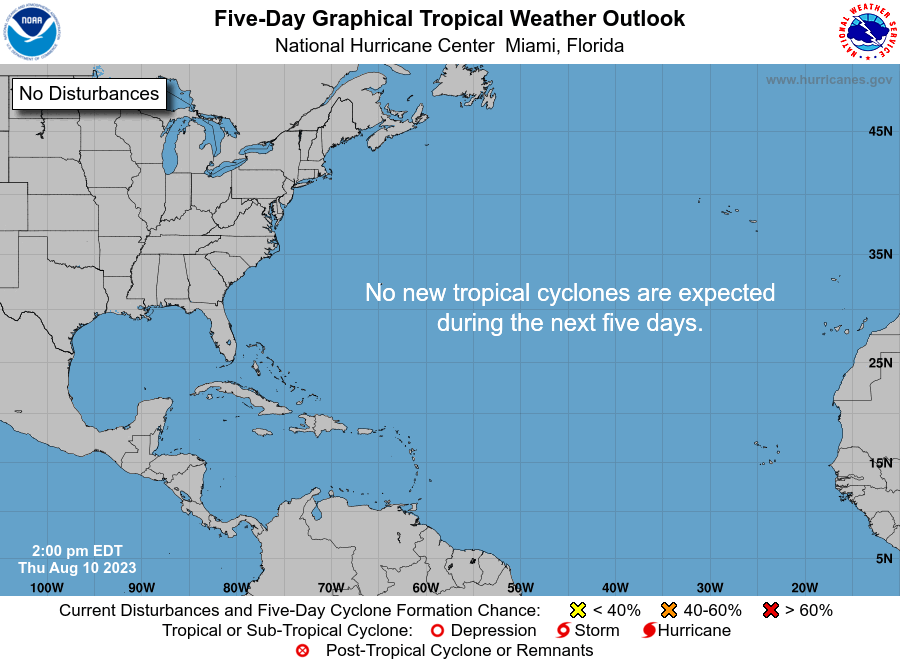 Sub-Tropical Cyclone 30L (Theta)

SUBTROPICAL STORM FORMS OVER THE OPEN NORTHEAST ATLANTIC…RECORD-BREAKING 29TH NAMED STORM OF THE SEASON
Here's what the computer models are showing
According the NHC advisory 1…The storm is moving toward the east near 15 mph (24 km/h), and a general east-northeast motion is expected to continue during the next two to three days.
Maximum sustained winds are near 50 mph (85 km/h) with higher gusts. Some slight strengthening is possible during the next 12 to 24 hours followed by little change in strength through Thursday.
Winds of 40 mph extend outward up to 115 miles (185 km) from the center.
Caribbean:
A tropical wave located over the eastern Caribbean Sea is producing disorganized showers and thunderstorms.
This wave is expected to move westward into more conducive environmental conditions, and a tropical depression could form late this week or this weekend when the wave reaches the central or western Caribbean Sea.
* Formation chance through 48 hours…low…near 0 percent
* Formation chance through 5 days…medium…60 percent
WSI satellite image of the Caribbean Sea
Gulf of Mexico: 
Tropical Cyclone 29L (ETA)
Eta is bringing heavy rain, gusty winds and high surf to parts of Florida. Eta's long-term forecast track is highly uncertain. Eta made landfall in the Florida Keys late Sunday night.
Tropical Cyclone Eta has also made history, matching the strength of the strongest storm of this active 2020 hurricane season (Hurricane Laura)…when its winds peaked at 150 mph earlier this week.
ETA EXPECTED TO RE-STRENGTHEN AS IT MEANDERS OVER THE SOUTHEASTERN GULF OF MEXICO ON TUESDAY
Looping radar from southern Florida / Looping radar from Tampa, Florida
According the NHC Advisory 39…Eta is moving toward the southwest near 9 mph (15 km/h), and this motion with a reduction in forward speed is expected tonight. Little overall motion is forecast on Tuesday and a slow northward motion is expected Tuesday night and Wednesday.
On the forecast track, the center of Eta will remain over the southeastern Gulf of Mexico tonight through Wednesday. Maximum sustained winds are near 50 mph (85 km/h) with higher gusts.
Some strengthening will be possible tonight and Tuesday. Gradual weakening is expected to begin by late Wednesday and then continue through the end of the week. Tropical-storm-force winds extend outward up to 115 miles (185 km) from the center.
HAZARDS AFFECTING LAND
RAINFALL: Eta is expected to produce the following rainfall amounts through Saturday morning:
The Bahamas: An additional 1 to 3 inches (25 to 75 mm), with isolated maximum storm totals of 15 inches (380 mm).
Portions of Cuba: an additional 3 to 5 inches (75 to 125 mm), isolated maximum storm total accumulations of 25 inches (635 mm).
Portions of the central and southern Florida peninsula, including the Keys: an additional 2 to 4 inches (50 to 100 mm)), with isolated maximum storm totals of 18 inches (450 mm) in South Florida.
Flash flooding and river flooding will be possible in Cuba, along with landslides in areas of higher terrain. Life-threatening flash flooding will be possible across saturated urban areas of southeast Florida. Flash and urban flooding will also be possible for the Bahamas and the remainder of southern and eastern Florida over the next several days. Minor river flooding is also possible for central Florida.
WIND: Gusty conditions will continue across the Florida Keys, south and central Florida, and the northwestern Bahamas today. Tropical storm conditions are possible in the Tropical Storm Watch area in Cuba tonight and Tuesday.
TORNADOES: A tornado or two is possible today over parts of south Florida and the Keys.
SURF: Swells generated by Eta are expected to affect the north coast of Cuba, the northwestern Bahamas, southern Florida and the Florida Keys during the next couple of days. These swells are likely to cause life-threatening surf and rip current conditions.
Latest satellite image of the Caribbean Sea and the Gulf of Mexico