CURRENT TROPICAL CYCLONES:
Tropical Cyclone 07L…is located about 1185 miles west-southwest of the Cabo Verde Islands

Atlantic Ocean:
Tropical Depression 07L
According to the NHC, the depression is moving toward the west-northwest near 8 mph (13 km/h). A turn toward the west with an increase in forward speed is expected tonight and Wednesday, and that motion should continue through Friday. Maximum sustained winds are near 35 mph (55 km/h) with higher gusts. Strengthening is forecast during the next couple of days, and the depression is expected to become a tropical storm tonight or Wednesday.
 Here's a satellite image of the Atlantic Ocean
Caribbean Sea:
WSI satellite image of the Caribbean Sea
Latest satellite image of the Caribbean Sea and the Gulf of Mexico
Gulf of Mexico: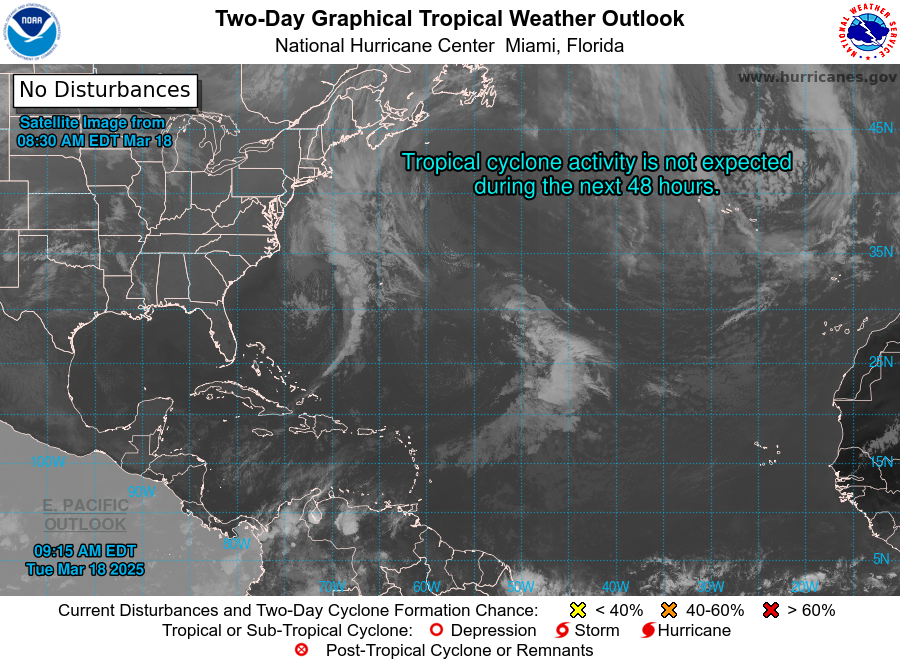 1.) A tropical wave is producing a large area of disorganized showers and thunderstorms over the eastern Gulf of Mexico, southern Florida, and western Cuba. Gradual development of this system is possible while it moves west-northwestward during the next few days. This system is expected to move over the central Gulf on Wednesday, and reach the northwestern Gulf on Thursday and Friday. An Air Force Reserve Hurricane Hunter aircraft is scheduled to investigate the system on Wednesday, if necessary.
* Formation chance through 48 hours…low…30 percent
* Formation chance through 5 days…medium…40 percent