Tropical Cyclone 18E (Pilar)

is

located about 50 miles southwest of Mazatlan, Mexico

Tropical Cyclone 22W

is

located about 230 NM east-southeast of Hanoi, Vietnam –

Final Warning




Tropical Storm 18E (Pilar) remains active, and is quickly weakening…as it parallels the Mexican coast

Here's a satellite view, with the looping version…along with what the computer models are showing
Tropical Storm 18E has maximum sustained winds near 40 mph
According to the NHC:
Tropical Storm Pilar Discussion Number   7
NWS National Hurricane Center Miami FL        
300 AM MDT Mon Sep 25 2017

Although Pilar continues to produce an area of deep convection,
surface observations and satellite data indicate that the
circulation of the storm is losing definition.  In fact, recent
ASCAT data suggest that Pilar could already be an open trough.
However, we prefer to keep issuing advisories until more
confirmation on the structure of the system is available.  The
initial intensity is held at 35 kt based on the latest Dvorak
estimates from TAFB and SAB.

Pilar is very near the west coast of Mexico and it is expected to
move along or just off the coast during the next day or two.  The
interaction with land combined with a significant increase in
southwesterly shear should cause the cyclone to weaken to a
tropical depression later today, and dissipate within the next 24
to 36 hours.

Since Pilar lacks a clear center, the initial motion of 340/8 kt is
uncertain.  A slower north-northwest motion in the low- to mid-level
flow is expected until the system dissipates.  This track forecast
lies closest to the latest GFS model run.

The main hazard associated with Pilar is the potential for heavy
rainfall, which could cause life-threatening flash floods and
mudslides, over the states of Nayarit, the southern portion of
Sinaloa, and the southwestern portion of Durango during the next day
or so.

FORECAST POSITIONS AND MAX WINDS

INIT  25/0900Z 22.2N 106.6W   35 KT  40 MPH
 12H  25/1800Z 22.8N 106.8W   30 KT  35 MPH
 24H  26/0600Z 23.6N 107.1W   25 KT  30 MPH
 36H  26/1800Z...DISSIPATED

HAZARDS AFFECTING LAND


RAINFALL: Pilar is expected to produce total rain accumulations of
3 to 7 inches with possible isolated maximum amounts of 10 inches
over the western portions of the Mexican states of Nayarit, southern
Sinaloa, and southwestern Durango through Tuesday.  This rainfall
could cause life-threatening flash floods and mudslides.

WIND: Tropical storm conditions are occurring in a portion of the
warning area.  These conditions will diminish later today.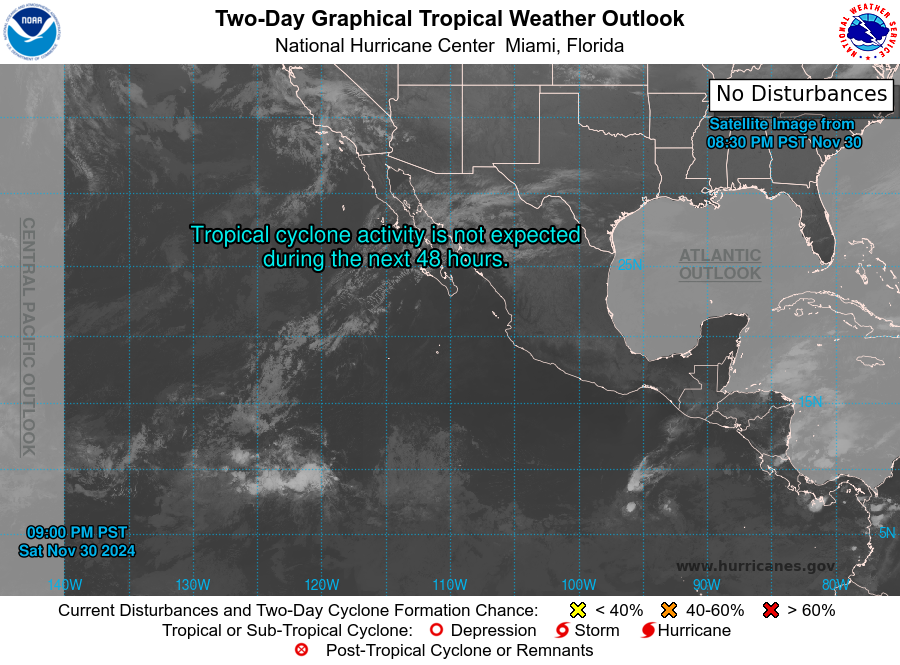 1.) A broad area of low pressure located near the Guatemala border continues to produce disorganized showers and thunderstorms. Development, if any, of this disturbance should be limited due to proximity to land while the system meanders near or just offshore of the coasts of Guatemala and Mexico for the next couple of days.
* Formation chance through 48 hours…low…30 percent
* Formation chance through 5 days…low…30 percent
Tropical Depression 22W is dissipating over Vietnam – Final Warning

Here's a satellite image…and what the computer models are showing
According to the JTWC, sustained winds are 30 knots…with gusts to 40 knots
Eastern North Pacific
Tropical Cyclone 18E (Pilar)

NHC textual forecast advisory
NHC graphical track map
NOAA satellite image
Central North Pacific
There are no current tropical cyclones
South Pacific
There are no current tropical cyclones
North Indian Ocean
There are no current tropical cyclones
South Indian Ocean
There are no current tropical cyclones
North Arabian Sea
There are no current tropical cyclones
For real-time information on current disasters download PDC's free Disaster Alert mobile app available for your iOS or Android devices today! Also be sure to monitor PDC on Twitter, Facebook, and by accessing the web-accessible Disaster Alert from your computer, phone, or tablet.