Tropical Cyclone 18E (Pilar)

is located about 70 miles west-southwest of Manzanillo, Mexico

Tropical Cyclone 22W

is located about 255 NM south-southwest of Hong Kong


Tropical Storm 18E (Pilar) remains active…and isn't forecast to become a hurricane…as it parallels the Mexican coast

Here's a satellite view, with the looping version…along with what the computer models are showing
Tropical Storm 18E has maximum sustained winds near 40 mph
According to the NHC:
Tropical Storm Pilar Discussion Number   2
NWS National Hurricane Center Miami FL       EP182017
1000 PM CDT Sat Sep 23 2017

The structure of the cyclone near Mexico has improved over the past
6 hours.  Dvorak intensity estimates from TAFB and SAB now support
an estimated intensity of 35 kt, so the system is now classified as
Tropical Storm Pilar.

The initial motion based on recent satellite fixes is 350/4 kt.
Pilar is still expected to move generally toward the north-northwest
or north to the east of a mid-level ridge centered over Mexico for
the next couple of days, and the primary source of uncertainty in
the forecast is possible interaction with land.  Due in part to
initial position uncertainty, the global models vary on whether
Pilar will clip the coast of Jalisco or remain just offshore, but
the model consensus now shows a landfall in about 24 hours.  The
NHC forecast has been adjusted slightly to the east toward the
model consensus, but it is certainly possible that the tropical
storm could remain offshore and enter the Gulf of California.
Regardless of whether the center makes landfall or not, heavy rain
is still likely along the coast of Mexico through early next week.

The possibility of land interaction makes the intensity forecast
particularly difficult.  Very warm SSTs and only moderate shear
should allow for some strengthening for at least the next 36 hours.
However, if Pilar makes landfall sooner than that, it will likely
quickly weaken.  Since my track forecast shows Pilar making
landfall in about 24 hours, my intensity forecast peaks at that
time, and shows steady weakening thereafter.  Beginning around 48
h, the GFS and ECMWF show that the shear will increase
substantially, which should cause Pilar to quickly become a remnant
low, even if it remains over water.

FORECAST POSITIONS AND MAX WINDS

INIT  24/0300Z 18.7N 105.3W   35 KT  40 MPH
 12H  24/1200Z 19.3N 105.5W   45 KT  50 MPH
 24H  25/0000Z 20.3N 105.6W   50 KT  60 MPH
 36H  25/1200Z 21.1N 105.7W   45 KT  50 MPH
 48H  26/0000Z 21.9N 105.9W   40 KT  45 MPH
 72H  27/0000Z 23.3N 106.4W   30 KT  35 MPH...POST-TROP/REMNT LOW
 96H  28/0000Z 24.7N 107.3W   25 KT  30 MPH...POST-TROP/REMNT LOW
120H  29/0000Z...DISSIPATED
HAZARDS AFFECTING LAND
 
RAINFALL: Pilar is expected to produce total rain accumulations of 3
to 6 inches with possible isolated maximum of 15 inches over the
western portions of the Mexican states of Michoacan, Colima, western
Jalisco and Nayarit through Monday.   This rainfall may cause
life-threatening flash floods and mudslides

WIND: Tropical Storm conditions are expected to begin within the
southern portion of the warning area tonight or early Sunday,
and gradually spread northward along the Mexican coast on Sunday and
Monday.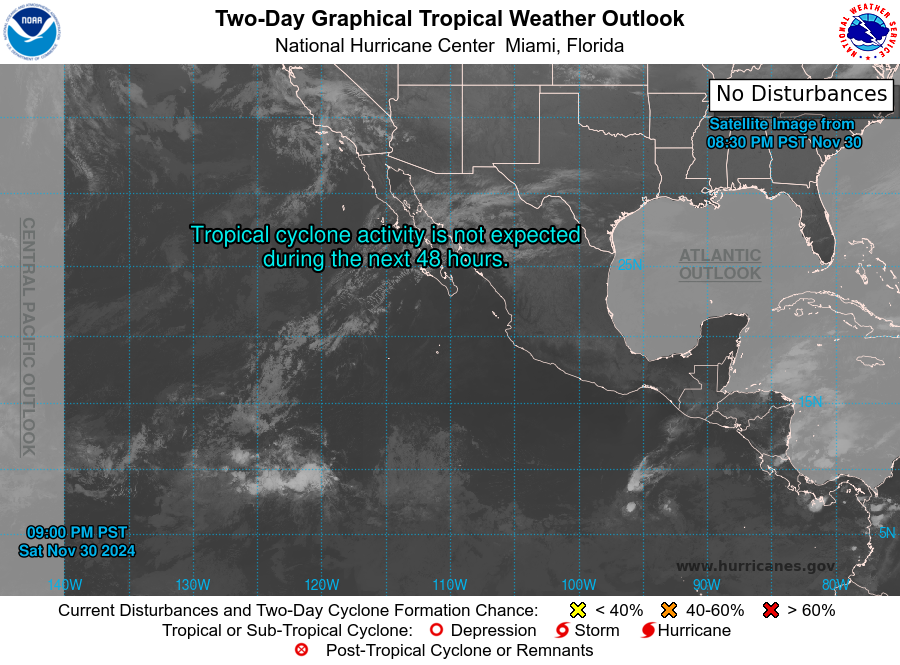 1.) A broad area of low pressure continues to produce disorganized shower and thunderstorms over the far eastern Pacific. Some gradual development of this system is possible before the system moves inland over Central America in a few days.
* Formation chance through 48 hours…low…30 percent
* Formation chance through 5 days…medium…40 percent
Tropical Depression 22W has spun up in the South Indian Ocean, heading towards Hainan Island, China…and then on to Vietnam

Here's a satellite image…and what the computer models are showing
According to the JTWC, sustained winds are 30 knots…with gusts to 40 knots
Meanwhile, there's a tropical disturbance which is being referred to as Invest 92W…located approximately 540 NM east-southeast of Zamboanga, Philippines

Here's a satellite image…and what the computer models are showing
Maximum sustained winds are estimated to be 10-15 knots.
The potential for the development of a significant tropical cyclone within the next 24 hours is low
Eastern North Pacific
Tropical Cyclone 18E (Pilar)

NHC textual forecast advisory
NHC graphical track map
NOAA satellite image
Central North Pacific
There are no current tropical cyclones
South Pacific
There are no current tropical cyclones
North Indian Ocean
There are no current tropical cyclones
South Indian Ocean
There are no current tropical cyclones
North Arabian Sea
There are no current tropical cyclones
For real-time information on current disasters download PDC's free Disaster Alert mobile app available for your iOS or Android devices today! Also be sure to monitor PDC on Twitter, Facebook, and by accessing the web-accessible Disaster Alert from your computer, phone, or tablet.