CURRENT TROPICAL CYCLONES
Tropical Cyclone 14E (Lane)

is located about 195 miles southwest of Honolulu, Hawaii
Tropical Storm Lane is weakening while moving slowly away…although the outer rain bands are producing locally heavy showers across parts of the Hawaiian Islands

Here's what the computer models are showing for this storm
Lane's outer rain bands continue to pour down over parts of the state, particularly the Big Island, where more than 40 inches of rain has been reported in a few locations!
Hilo picked up 31.85″ of rain in the 3-day period from Wednesday through Friday, making it the wettest 3-day period ever observed. 15.00″ fell on Friday alone, allowing it to become the 5th wettest day on record.
Heavy rain also forced road closures on Maui. The Piilani Highway was closed near Kaupo due to flooding, and Highway 20 was closed due to landslides. A U.S. Geological Survey station, the West Wailuaiki gauge…received 16.82″ of rain.
According to the CPHC…Lane is moving toward the west near 9 mph and this motion is expected to continue through Monday with a slight increase in forward speed. Maximum sustained winds are near 50 mph with higher gusts. Some weakening is forecast during the next 48 hours.
Tropical-storm-force winds extend outward up to 90 miles from the center.
HAZARDS AFFECTING LAND –
 RAINFALL: Lane's outer rain bands will produce excessive rainfall this weekend, which could lead to additional flash flooding and landslides. Lane is expected to produce additional rain accumulations of 5 to 10 inches in some areas. Localized storm total amounts well in excess of 40 inches have already been observed along the windward side of the Big Island.
Meanwhile, there's a tropical disturbance, which is being referred to as Invest 93W…located approximately 100 NM north-northwest of Kadena AB, Okinawa

Here's what the computer models are showing for this tropical disturbance
According to the JTWC, THE DISTURBANCE IS CURRENTLY LOCATED IN AN AREA OF GOOD EQUATORWARD UPPER LEVEL OUTFLOW, MODERATE TO HIGH WIND SHEAR (20-30 KNOTS), AND WARM SEA SURFACE TEMPERATURES).
GLOBAL MODELS ARE IN AGREEMENT THAT THE SYSTEM WILL CONTINUE TO TRACK TO THE NORTHWEST OVER THE NEXT SEVERAL DAYS. MOST MODELS DEPICT THE SYSTEM INTERACTING WITH ENERGY FROM THE DISSIPATING 24W IN A REVERSE MONSOON TROUGH PATTERN THAT MAY CONSOLIDATE INTO AN ORGANIZED SYSTEM.
Maximum sustained surface winds are estimated at 15-20 knots.
The potential for the development of a significant tropical cyclone within the next 24 hours remains medium.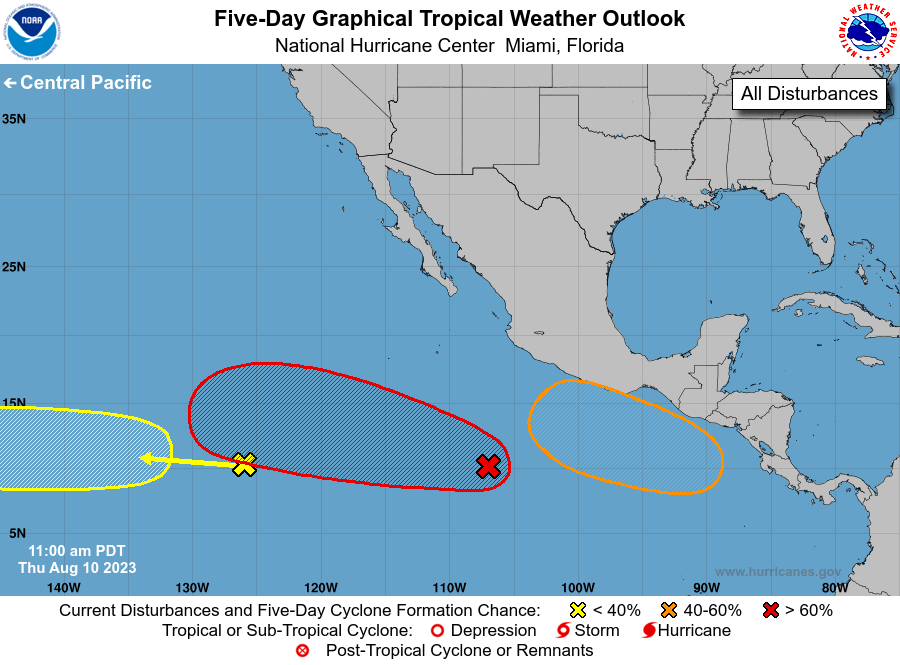 1.) An area of low pressure located just over 1000 miles southwest of the southern tip of the Baja California peninsula appears to be becoming a little better organized. Although satellite data indicate that a well-defined surface circulation has not yet formed, environmental conditions appear conducive for additional development, and a tropical depression is likely to form within the next few days while the system moves westward around 10 mph.
* Formation chance through 48 hours…medium…40 percent
* Formation chance through 5 days…high…70 percent
2.) A broad low pressure system located about 500 miles south of Acapulco, Mexico, continues to produce a large area of disorganized showers and thunderstorms. Slow development of this system is expected over the next several days, and a tropical depression could form by the middle of next week while it moves westward or west-northwestward at 10 mph.
* Formation chance through 48 hours…low…20 percent
* Formation chance through 5 days…medium…60 percent
Northeast Pacific
There are no active tropical cyclones
Central North Pacific
Tropical Cyclone 14E (Lane)

Western North Pacific
There are no active tropical cyclones
South Pacific
There are no active tropical cyclones
North Indian Ocean
There are no active tropical cyclones
South Indian Ocean
There are no active tropical cyclones
Arabian Sea
There are no active tropical cyclones

For real-time information on current disasters download PDC's free Disaster Alert mobile app available for your iOS or Android devices today! Also be sure to monitor PDC on Twitter, Facebook, and by accessing the web-accessible Disaster Alert from your computer, phone, or tablet.