There are no active tropical cyclones at the time of this writing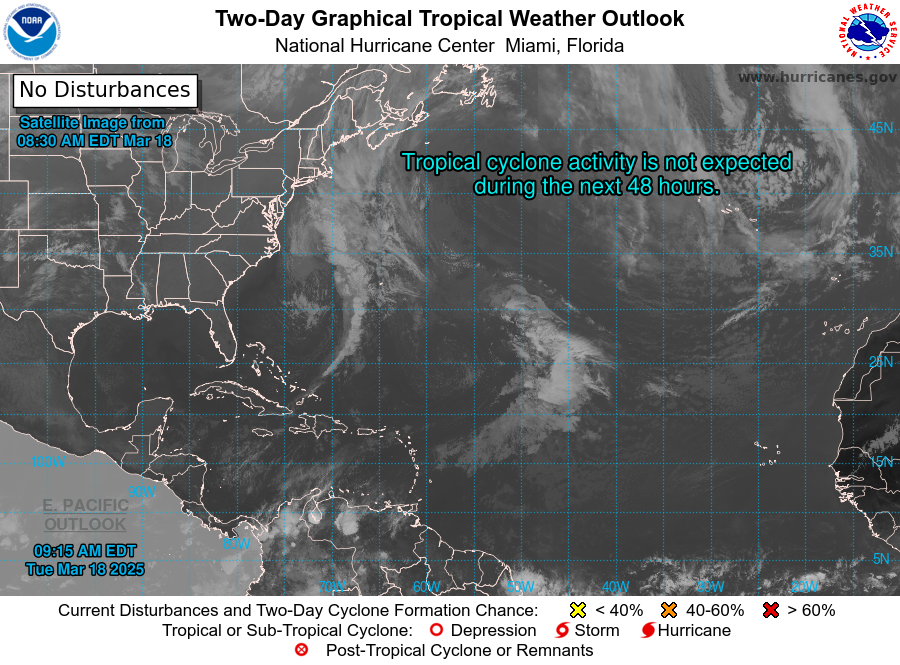 However, the National Hurricane Center (NHC) reports that a surface trough of low pressure, interacting with an upper-level low continues to produce an elongated area of disorganized showers and thunderstorms…about 700 miles southwest of the Azores.
Environmental conditions are expected to be conducive for a non-tropical low to form during the next day or so, and the system could gradually acquire some subtropical characteristics by the middle of next week…while it moves slowly northeastward.
This tropical disturbance is being referred to as Invest 96L, and here's what the computer models are showing
This area of disturbed weather poses no threat to land.
* Formation chance through 48 hours…low…10 percent
* Formation chance through 5 days…medium…40 percent
Atlantic Ocean
NOAA satellite image of the Atlantic
Caribbean Sea
NOAA satellite image of the Caribbean Sea
Gulf of Mexico
Latest satellite image of the Gulf of Mexico
For real-time information on current disasters download PDC's free Disaster Alert mobile app available for your iOS or Android devices today! Also be sure to monitor PDC on Twitter, Facebook, and by accessing the web-accessible Disaster Alert from your computer, phone, or tablet.