Tropical Cyclone 15L (Maria)

is

located about 560 miles south of Cape Race, New Foundland



Tropical Cyclone 14L (Lee)

is

located about 925 miles west-northwest of the Azores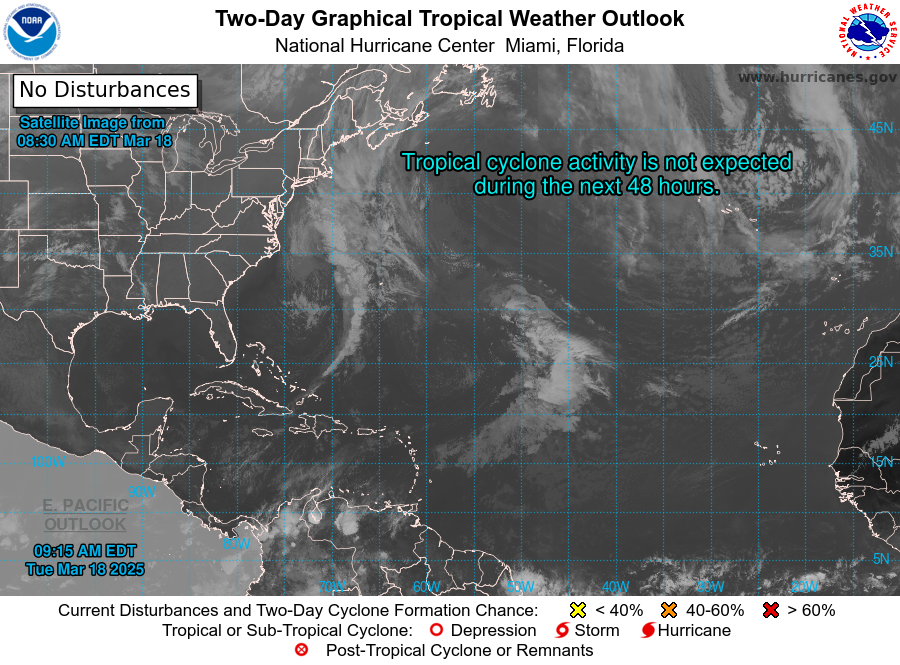 Tropical Storm 14L (Lee) remains a small system in the Central Atlantic

Here's a satellite view, with the looping version…along with what the computer models are showing

Here's a near real time wind profile of TS Lee…the right most swirl
TS Lee has maximum sustained winds near 60 mph
According to the NHC:
Tropical Storm Lee Discussion Number 48
NWS National Hurricane Center Miami FL
1100 PM AST Fri Sep 29 2017
Lee has been devoid of deep convection for the past 6 hours due to strong northwesterly vertical wind shear and sea-surface temperatures near 20 deg C. The initial intensity has been lowered to 50 kt based on a UW-CIMSS ADT intensity estimate of 51 kt and typical decay rate for tropical cyclones at that latitude. Lee is forecast to become an extratropical low in the next 6-12 h due to aforementioned strong shear and cold ocean temperatures. However, due to a continued increase in forward speed, little change in strength is expected until dissipation occurs in 12-24 hours despite the lack of any significant convection with the system.
Lee has continued to accelerate toward the northeast, and the initial motion estimate is now 060/36 kt. For the next day or so, Lee will remain embedded within deep-layer southwesterly flow ahead of a mid-/upper-level trough, and continue to accelerate toward the northeast. Since the models remain tightly clustered, no change was made to the previous forecast track.
Tropical Storm 15L (Maria) accelerating across the Atlantic

Here's a near real time wind profile of TS Maria…the left most swirl

Here's what the computer models are showing
Long term animated image for TS Maria
A graphic showing where TS Maria is…with additional information
TS Maria has maximum sustained winds near 60 mph
According to the NHC:
Tropical Storm Maria Discussion     Number 56
NWS National Hurricane Center Miami FL
1100 PM EDT Fri Sep 29 2017
Maria continues to gradually lose tropical cyclone characteristics as cool and dry air entrains into the western side of the circulation. However, a small area of convection remains to the east of the center, and recent microwave sounding data indicates the cyclone still has a warm core. The initial intensity remains 50 kt based on a combination of subjective satellite intensity estimates and the CIMSS satellite consensus technique. Maria is now expected to become extratropical in about 24 h, and the system is likely to be absorbed by a larger non-tropical low after the 48-h point.
The initial motion is 070/27. Maria is embedded in the mid-latitude westerlies and should continue to move quickly east-northeast for the remainder of the cyclone's life.
Atlantic Ocean
Tropical cyclone 15L (Maria) 

NHC textual forecast advisory
NHC graphical track map
NOAA satellite image
Tropical cyclone 14L (Lee) 

NOAA satellite image of the Atlantic
Caribbean Sea
1.) A broad trough of low pressure interacting with an upper-level low is producing a large but disorganized area of cloudiness and showers. This activity extends from the northwestern Caribbean Sea northward across western Cuba to the southern Florida peninsula. This trough has moved slowly westward since yesterday, and a weak low is now likely to form from this system near the west coast of Florida during the weekend. Environmental conditions appear to be conducive for some development of the low before the upper-level winds become less favorable early next week. Regardless of development, this system is likely to produce locally heavy rainfall over portions of central and western Cuba, the Florida Keys, the Florida peninsula during the next several days.
This disturbance is being referred to as Invest 99L, here's a satellite image…along with what the computer models are showing
Here's a looping satellite image of this area
Here's the animated radar image for the area
* Formation chance through 48 hours…medium…40 percent
* Formation chance through 5 days…medium…40 percent
2.) A tropical wave is producing cloudiness and showers over the northeastern Caribbean Sea and the adjacent Atlantic waters. Although there are no signs of organization and surface pressures are not falling at this time, conditions could become a little more favorable for some development next week while the system moves toward the west-northwest. This system is expected to bring locally heavy rains over the northern Leeward Islands, including Puerto Rico and the U.S. Virgin Islands.
*  Formation chance through 48 hours…low…near 0 percent
*  Formation chance through 5 days…low…20 percent
NOAA satellite image of the Caribbean Sea
Gulf of Mexico
Latest satellite image of the Gulf of Mexico
For real-time information on current disasters download PDC's free Disaster Alert mobile app available for your iOS or Android devices today! Also be sure to monitor PDC on Twitter, Facebook, and by accessing the web-accessible Disaster Alert from your computer, phone, or tablet.