Tropical Cyclone 15L (Maria)

is

located about 335 miles north of Bermuda



Tropical Cyclone 14L (Lee)

is

located about 645 miles east-northeast of Bermuda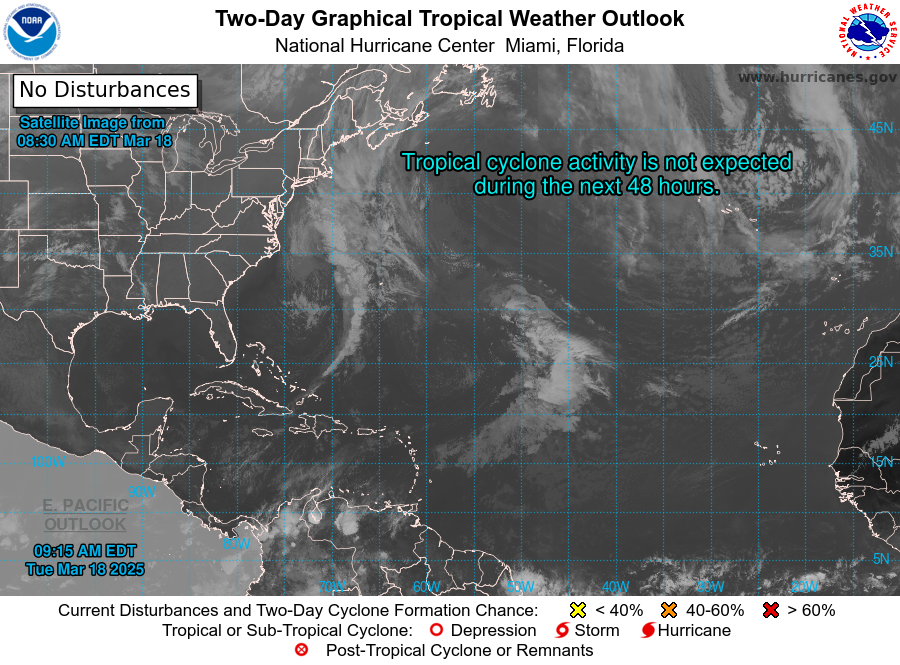 Hurricane 14L (Lee) remains a small system in the Central Atlantic…maintaining strength at Category 1

Lee is no threat to land.
Here's a satellite view, with the looping version…along with what the computer models are showing

Here's a near real time wind profile of Hurricane Lee…as it remains away from land
Hurricane Lee has maximum sustained winds near 80 mph
According to the NHC:
Hurricane Lee Discussion Number 44
NWS National Hurricane Center Miami FL
1100 PM AST Thur Sep 28 2017
Due to the 40 kt of belligerent northerly shear impinging on the northern half of the cyclone, Lee's surface circulation center has become partially exposed near the northwestern edge of the cloud canopy. A compromise of the subjective and objective Dvorak satellite T-number estimates yields a reduced initial intensity of 70 kt. Persistent strong northerly to northwesterly shear and decreasing oceanic temperatures should further weaken Lee during the next 36 hours. Afterward, the global models indicate that the system will become absorbed by a larger baroclinic system over the northern Atlantic. The official intensity forecast is similar to the previous one, and is an average of the Decay-SHIP and LGEM models.
The initial motion is estimated to be northeastward, or 045/19 kt. The decaying cyclone is expected to continue accelerating toward the northeast within deep-layer mid-latitude southwesterly flow until dissipation occurs in 48 hours. The NHC forecast follows the TVCN multi-model consensus and the ECMWF closely, and is basically an update of the previous track forecast.
Tropical Storm 15L (Maria) remains offshore…beginning to accelerate away from the coast

The remnants of Maria are expected to move across Britain around Monday…and could bring very heavy rain and very strong to gale force winds with it.
Here's a near real time wind profile of TS Maria…as it continues spinning offshore from the east coast of the United States
Here's what the computer models are showing
Long term animated image for TS Maria
A graphic showing where TS Maria is…with additional information
A graphic showing Maria's Watches and Warnings
A graphic showing Maria's Storm Surge Forecast
A graphic showing the rainfall forecast through Friday
TS Maria has maximum sustained winds near 65 mph
According to the NHC:
Hurricane Maria Discussion     Number 52
NWS National Hurricane Center Miami FL
1100 PM EDT Thur Sep 28 2017
The satellite presentation of Maria has degraded over the past 12 hours or so, with the area of deep convection decreasing in coverage and becoming displaced to the east of the center due to some westerly shear. Subjective Dvorak intensity estimates from TAFB and SAB are 45 kt, while the UW-CIMSS ADT is 50-55 kt. Based on the latter, the initial wind speed is maintained at 55 kt for this advisory.
Maria is beginning to accelerate eastward, with an initial motion estimate of 080/15 kt. The tropical storm is forecast to turn east-northeastward on Friday ahead of an approaching deep-layer trough. Maria should continue to accelerate east-northeastward to northeast over the north Atlantic on Saturday before it is absorbed by a frontal boundary over the northeastern Atlantic. The track guidance continues to be tightly clustered and the NHC forecast is essentially an update of the previous advisory.
Maria is forecast to change little in intensity over the next day or so while it moves over marginal SSTs and remains in low to moderate shear conditions. After that time, baroclinic forcing and the rapid forward speed of the cyclone should again help Maria maintain its intensity until it completes extratropical transition in about 48 hours. The global models indicate that the extratropical low will weaken over the northeastern Atlantic by day 72 h, and be absorbed by a frontal system by day 4. The post-tropical intensity and wind radii forecasts at 48 and 72 h are based on guidance provided by the NOAA Ocean Prediction Center.
HAZARDS AFFECTING LAND
SURF: Swells generated by Maria are affecting much of the east coast of the United States, Atlantic Canada, and Bermuda. These swells are likely to cause life-threatening surf and rip current conditions.
Atlantic Ocean
Tropical cyclone 15L (Maria) 

NHC textual forecast advisory
NHC graphical track map
NOAA satellite image
Tropical cyclone 14L (Lee) 

NOAA satellite image of the Atlantic
Caribbean Sea
A large area of cloudiness and showers extending from the northwestern Caribbean Sea northward across Cuba to the Florida Straits is associated with a broad surface trough interacting with an upper-level low. A weak area of low pressure is likely to form from this weather system near the Florida Straits on Friday, and it is forecast to move northward near the east coast of the Florida Peninsula through Saturday. Environmental conditions appear to be conducive for some development during the next couple of days, before upper-level winds become less favorable on Sunday. Regardless of development, this system is likely to produce locally heavy rainfall over portions of central and western Cuba, the Florida Keys, the Florida peninsula, and the northwestern Bahamas during the next several days.
* Formation chance through 48 hours…medium…40 percent
* Formation chance through 5 days…medium…50 percent
NOAA satellite image of the Caribbean Sea
Gulf of Mexico
Latest satellite image of the Gulf of Mexico
For real-time information on current disasters download PDC's free Disaster Alert mobile app available for your iOS or Android devices today! Also be sure to monitor PDC on Twitter, Facebook, and by accessing the web-accessible Disaster Alert from your computer, phone, or tablet.